Scaling and Root Planing Temecula CA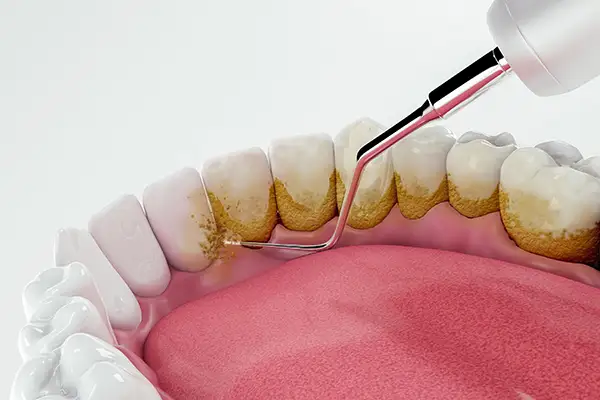 Gum disease is a chronic condition that can ruin your smile and cause other oral health consequences.

Early detection and treatment of gum disease are vital to not only overcoming the condition but also for avoiding the need for more expensive surgical interventions.

Our professionals at Picasso Dental Care are very knowledgeable when it comes to the treatment of gum disease.

There are several great treatment options, including non-surgical treatment for many cases. Scaling and root planing are common non-surgical treatments for periodontal gum disease. Dr. Vinh Le and Dr. Quang Le provide these services at our Temecula, CA office.

These are recommended every three to four months for patients with gum disease, whereas patients without gum disease can go back to routine appointments every six months. Additionally, we often prescribe antibiotics to clear the infection and provide home-care instructions.

To learn more about periodontal disease and how it affects your health read our newsletters:



What Is Root Planing and Scaling?

This treatment is completed during your regular dental exam after your normal cleaning is complete. It is painless and quick, making it easy for our team to provide you the care you need.

Dr. Vinh Le and Dr. Quang Le will initially provide a local anesthesia for your gums so that you do not feel any discomfort while we clean your teeth. The first part of the procedure involves scaling your teeth.

A scaler, the same one that is used in routine cleanings, is used to scrape debris from your teeth. We also reach under the gum line with the dental scaler. This metal instrument has a point that can pull plaque and tartar from your mouth.

We need to clean under the gum line because of the extra bacteria pockets that gum disease causes. When you have gum disease, your gums disconnect from your teeth, leaving empty spaces that can fill with bacteria and debris.

Besides a dental scaler, we also have access to several other dental tools as well. Depending on your dental insurance and personal preferences, laser treatment can be an option. This still cleans the teeth, but generally causes less discomfort and inflammation than a traditional dental scaler would. Curettes can also be used to collect debris.

Gum disease will erode both the gum and bone tissue in your mouth. After the scaling is complete, our professional will use the same tool to plane the roots of affected teeth.

Planing or smoothing your tooth's root involves removing built-up tartar and plaque that hinders the connection between your roots and gums. Root planing gives the tooth root a smooth surface so that it can better adhere to the gums. By removing this material, your teeth and gums can begin to heal.

With the surface retouch, your gums become more stable, and you are less susceptible to the bacteria pockets we mentioned previously.


When Should Scaling and Root Planing Be Done?

Scaling and root planing is necessary when plaque has accumulated on your teeth and is allowed to remain there. Over time, plaque hardens into a material called tartar. Plaque can be removed during regular brushing and flossing, but tartar cannot and must be removed with scaling.

The plaque and tartar cause your gums to become inflamed and make them more sensitive. Inflamed gums are often discolored and will frequently bleed when brushed. The pockets will gradually deepen as the amount of plaque trapped in them grows. Once this happens, the teeth can no longer be cleaned with traditional scaling methods and will require pocket reduction surgery.


How Long Does Scaling and Root Planing Take?

How long root planing and scaling takes will depend on the amount of plaque and tartar buildup on your teeth. The procedure typically takes at least one hour, up to several hours for more severe cases.


Does Scaling and Root Planing Hurt?

You will not feel anything during these procedures, but slight inflammation and discomfort after the anesthesia wears off is normal. To combat this, we administer a topical medication onto your gums after scaling and root planing is complete. We also administer a topical antimicrobial gel to prevent future infections.

Unfortunately, deep cleaning will not be sufficient in clearing the infection completely. However, antibiotics offer an easy solution to this. These are usually taken in pill form, and they work by destroying existent bacteria and strengthening the area to prevent more bacteria from growing. In addition, antibiotics help to relieve symptoms like inflammation and discomfort. You can also take over-the-counter medication for pain and inflammation control. Some people like to use ice packs as well.

Before you leave, we will provide instructions for maintaining oral health and preventing gum disease infection in the future.

Brushing, flossing, and using mouthwash every day are crucial components of oral hygiene. We will also explain the connection between nutrition and oral health. Finally, we recommend avoiding tobacco and other substance use since these can damage your oral health. Keeping yourself healthy overall will promote good oral health.


How Often Do You Need Scaling and Root Planing?

While the scaling and root planing procedure is completed during a routine oral exam, this treatment is needed several times for total recovery. Oftentimes, our team will recommend that you increase the frequency of your visits to three-month intervals to better treat the gum disease.

Gum disease is linked to poor oral hygiene habits. Once you begin receiving treatment for your gum disease, it is important that you make needed changes to your home oral hygiene practices and continue receiving regular dental exams from our team. This means brushing your teeth twice per day and flossing daily. Failing to improve your self-care practices will make scaling and root planing treatments less effective.

Our team will continue to monitor your condition during each visit. If it begins to progress further, then you may need surgical interventions such as pocket reduction therapy. This procedure reduces the size of the pockets between your teeth and gums when the pockets become too deep. The procedure allows our team to more effectively utilize root planing and scaling by reducing these pockets.


What to Eat After Scaling and Root Planing

You can eat as tolerated after your scaling and root planing procedure. Your gums may be tender afterward, so you may want to choose soft foods for a few days.


Schedule an Appointment Today With Your Temecula, CA Dentist!

If you are experiencing symptoms of gum disease and are ready to take control of your oral health, then it is time to come see our team at Picasso Dental Care. If you are ready to learn more about the techniques that our team uses to treat gum disease or to schedule your appointment, you can call us at (951) 383-2021.