Clear Aligners

Temecula, CA


Clear aligners are regularly used in cosmetic dentistry. Choosing clear aligners allows you to straighten misaligned teeth of many forms including teeth with underbites, spacing issues, and overbites. If you seek a consultation with our team at Picasso Dental Care we can help determine your eligibility for clear aligners.

If you need an almost invisible treatment to straighten your teeth, clear aligners are the right choice. Traditional braces are attached to metal and wires to straighten your teeth, unlike clear aligners. They are made of thermoplastic materials that are comfortable on the softer tissues of your mouth and fully removable unlike highly visible braces, which cannot be removed and can be hard to maintain.


You Can Start Straightening Your Teeth Immediately with Clear Aligners

During your initial meeting, you can discuss your smile goals with our orthodontist or dentist. Our dentist will use a digital scanning system to create a precise model of your teeth and then map out your treatment plan including the exact movement of your teeth and how long your treatment will take. Our office will provide a new set of clear aligners every week and each set of aligners will gradually shift your teeth. If you want to gently shape your smile, you will need to wear your clear aligners aligners for 20 to 22 hours a day. You can only take out your aligners to eat or when brushing and flossing.

With a clear aligners treatment plan at our office, you can have straight teeth in up to six months. Once your clear aligners treatment is complete you must maintain your progress by wearing a retainer. We recommend that you wear your retainer every night for the first year after treatment, then three to five nights a week.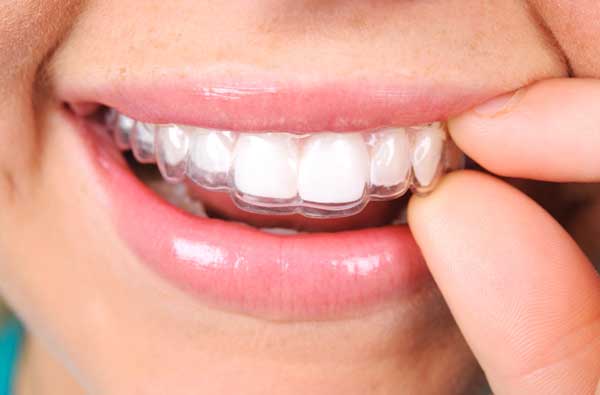 You Should Choose Clear Aligners Because They Are the Most Innovative Treatment

Clear aligners are an aesthetically pleasing treatment for teeth that need to be straightened - and they are popular for many other reasons. Clear aligners offer a fast treatment for your crooked teeth. By changing your alignment weekly, you achieve your desired outcome for your smile faster than ever. If you are an adult you may need to wait a bit longer than a week between aligner changes because your teeth will be more set into place and be harder to move.

Clear aligners are a comfortable treatment for misaligned teeth - our aligners are both smooth and removable. With clear aligners, you can enjoy the same functions that your teeth provide normally. Clear aligners offer the most convenient treatment for teeth because visits to the dentist are only necessary every six weeks.


Let Us Help You Start Clear Aligners Now

If you want to quickly achieve your perfect smile, there is no better time than now with clear aligners. Our experienced dental professionals at Picasso Dental Care are proud to offer clear aligners so please allow us to be your trusted healthcare provider by calling (951) 383-2021 to discuss your treatment plan.