Dental Bridge

Temecula, CA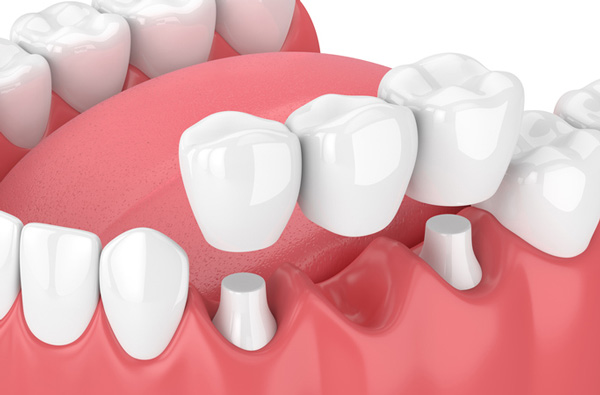 If you have missing teeth, our dentists at Picasso Dental Care have a potential solution to bridge your gap with artificial teeth using a dental bridge procedure. Given that you have one or more missing teeth, a dental bridge may be the best solution for you.


You Can Have a Dental Bridge

Suppose you are missing teeth, your performance may suffer because your teeth work in conjunction with each other to function properly for your use.

If you have a missing tooth, the teeth surrounding it may slowly move into the empty space. When the teeth in your jaw move around it may cause pain, extra stress on your teeth and jaw, bite problems, and chewing difficulties.

In the case that you have lost one tooth or more from tooth decay, disease, or an injury, a dental bridge may be the solution your smile needs. As long as you have sturdy teeth on either side of your missing ones you may be eligible for a dental bridge.

The best way to determine your ideal treatment plan is to visit our office and consult with our dental professionals


Alternatives to Dental Bridges

Partial dentures are a removable option with artificial teeth that can be taken out and cleaned. Dentures are your only choice if you want to have removable teeth.

Our dentists may urge you to choose a dental implant instead of a bridge. When you receive a dental implant, it will be surgically placed inside your jaw, a lab will create a new set of teeth based on a model of your teeth made by your dentist.

Over time the addition will integrate with your jawbone becoming a very permanent and durable option. This option does not need to be anchored by other teeth, like dentures.


Types of Dental Bridges

A traditional fixed dental bridge is the most common kind of dental bridge. Once you receive this kind of bridge it may consist of two caps called crowns that may be connected by a tooth called a pontic. This forms your bridge.

Crowns cover your teeth and are very important because they keep your bridge in place.

When you choose to receive a traditional bridge, it may be made of porcelain, metal, or porcelain-fused-to-metal cemented into place.

You may alternatively need a cantilever bridge if you only have teeth on one side of the gap. In the case that you need an implant-supported bridge, it may be the same as traditional bridges, but they may be held in place by implants.


Bridge Procedure

Your dental bridge procedure will take two appointments. During your first appointment, our dentist will reshape your abutment teeth meaning the teeth that may be covered by a cap.

By getting a dental bridge you will also be getting dental crowns that require enamel to be removed so that there is enough room for the cap to be placed sturdily.

After this, our dentist will take an impression or digital scan of your teeth that will be sent to a dental lab where your bridge may be made. During your next visit, our dentist will finally be able to cement your bridge into place.


Bridges Can Repair the Gap in Your Teeth

If you are looking to invest in your smile, allow our dentists at Picasso Dental Care to fill gaps in your smile with a dental bridge. Consult with our experienced dental professionals and find a treatment plan that works for you now by calling us at (951) 383-2021.