Teeth Whitening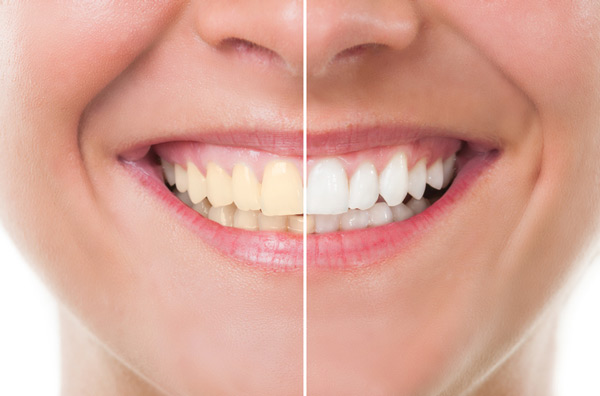 Teeth whitening treatment is one of the most popular practices in cosmetic dentistry. It is a quick, non-invasive, and affordable way to enhance your smile. Whitening treatments can provide a great solution to discoloration and there are many whitening treatments available for your budget and time frame. Your options for teeth whitening include professional treatments done in your dentist's office or treatments done at home. You may see improvements using teeth whitening treatments, however, they may vary depending on the chosen method. Seek consultation with one of our dentists at Picasso Dental Care. We can guide you to the treatment that best suits your needs.


Teeth Are Stained From Foods

Stains on your teeth can be caused by many things. Growing older may cause your teeth to grow darker naturally over years of everyday activity. Your teeth enamel will develop microcracks that accumulate stains. Having unhealthy eating habits will affect the color of your teeth, especially if you regularly consume wine, coffee, or other deeply-colored beverages and foods. Regular consumption of acidic foods will erode your enamel, making them more susceptible to staining. Chronic smoking will affect the color of your teeth because nicotine leaves brown deposits on your teeth that will slowly soak into your tooth structure and cause intrinsic staining. Additionally, the natural state of your teeth can be more prone to staining. People may genetically have a tooth color that can range from yellowish-brown to greenish-gray. You may genetically have teeth that show some translucency and may be more vulnerable to staining.


At-Home Whitening Treatments

During a whitening treatment, carbamide peroxide and hydrogen peroxide may be used to permeate your hard dental issues and whiten your smile. At-home teeth whitening treatments may have peroxides in amounts ranging from 10 to 20 percent and you should choose a product with a peroxide level somewhere in between that range. If the product you choose does not give your desired effect and also does not bother your mouth, you can try a teeth whitening treatment with a higher level of peroxide. Here are some common at-home whitening products you can use: rinses, gels, strips, toothpaste, and even chewing gum.


Professional Whitening Is The Best Option

If you are looking to whiten your teeth, you should know whitening treatments are not effective on composite resins. Healthy teeth and gums without fillings, caps, or crowns will be able to whiten with peroxide treatments. It is important to know that only natural teeth can be whitened. In most cases tooth-colored restorations cannot be bleached. It is also important that you know that whitening your teeth can pose a few risks. After a whitening treatment, you are likely to experience some degree of gum irritation afterward the more you treat your smile. Tooth sensitivity can also occur, but mild irritation of the soft tissues of the mouth is most common. At Picasso Dental Care our dentists are experienced in providing the strongest and safest professional teeth whitening treatments. Consult with our dental professionals now by calling us at (951) 383-2021.